Links
---
ABC No Rio - collectively-run center for art and activism - has a great screen printing shop, with advice

The Avett Brothers - make me so happy
BEC Metalwork - beautiful handmade jewlery by Beth Coiner (and my new collaborator - keep watching!)
The Beehive Salon - go there for a cut/style, these ladies are cool and nice
City Salvage Records - a record label and so much more by Andy Friedman
Craftland - as they say, if its made by hand, you can find it at craftland. My bags will be here!
Cupcakeshow - for reading and craft
Eco-Chick - environmental activist, Kim Allen writes a great review of my bags - Feb. 19, on a great blog.
EcoUnique - beautiful clothes, lovingly made (and well!)
Emzeedotes - great pondering from a belly and a heart
Elamenotees - very funny t-shirts by Jonathan Friedman

Galapagos ICE - dedicated to improving the health and education systems on the Galapagos Islands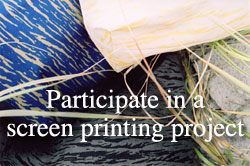 Help raise money for my Galapagos ICE Screen-Printing Project!
Hilary Pfeifer - vibrant artist
ICE Tourism - immerse, connect, evolve - in the Galapagos Islands, Ecuador (with my cousin and her husband!)
If'n Book + Marks - wonderful hand bound books by Deb Dormody

iLAND - Interdisciplinary Laboratory for Art, Nature and Dance
J.Fitzsimmons Building - for home renovation and loft building
John McGarity - on his own with paint and paper
Kundalini Yoga East - for great classes and a great vibe.
Lint - knitting in PDX - bags sold here!
Lisa Says - listen to her yarn...
Liz Shuman - capturing moments
Mor Mor Rita - for the beautiful kiddos - bags sold here!
Primitive Makeup - beautiful and natural
The Renegade Craft Fair - had a great time here
Share an Umbrella - craft and cause
Sixth Street Pilates - goooood classes

Standard Screen - where I get all my screen printing supplies - they are generous and helpful
Steve Morris Designs - seriously, check him out!
Walkcycle - best illo and a wealth of linking experiences
Walling McGarity - the great photographic duo
©1999-2007 KTK Handmade and KTK Handmade.com